Don't [email protected]% it Up! 3 Most Common Thanksgiving Mistakes
The best way to avoid mistakes is to 1) make a damn plan and stick to it 2) test the recipes out in advance, and 3) know how to fix your mistakes and have a "plan b". In my new book, Carve The Turkey [email protected], I dedicate a whole chapter to planning guidelines and checklists so you're not a frantic [email protected] the day of the holiday. But, if you didn't get a copy and are prone to screwing up, here are a few common mistakes that you can make and more importantly, ways to fix them.
Frozen Turkey
If you were a stupid [email protected] this year, you may not have read the thawing instructions. Typically you want to allow 1 day of defrost time for every 5 lbs. of meat. That means you need to start defrosting a 20lb. bird, 4 days before. If your bird is still frozen, a fix could be to place it (with the plastic wrapper) in a sink full of cool water. It should defrost in about 4 hours. If you only have 2 hours, you may want to carefully carve the legs, wings, and chunks of breast and defrost them that way. However, this makes for a more complicated cooking process. So don't be a stupid [email protected] Plan your thawing properly.
Make sure to have a look at our Turkey Cooking Lesson so you know how to cook the damn thing after it's been thawed!
Your Gravy isn't Right
If you didn't see our lesson "How to Make the Perfect Gravy Every Time", you may be in for some gravy texture issues! Some [email protected] have lumps, some make it too thick. and some make it too thin. Well here are all the fixes to all your gravy problems:
Too Lumpy– If you can't get the lumps out by simmering, stirring for three minutes, covering and simmering again for five minutes, take the shortcut and use a damn strainer.
Too Thick– This is an easy problem to fix. Just add a little chicken broth, water or wine. If you use chicken broth, make sure to taste for salt content and adjust as necessary. If you use water, again.. check the damn salt content. If you use wine, make sure to simmer for about 8 minutes to allow for the alcohol to burn off.
Too Thin-Remember, gravy tends to thicken as it cools, so don't add too much thickening agent (a cornstarch slurry[cornstarch dissolved in water] or a bit more roux [equal parts melted butter and flour]). The best advice is to add in tablespoons, let simmer for about 5 minutes, and then add more if necessary. Let the gravy cool for at least 5-10 minutes before deciding to add more thickener.
However, if you're choosing to be a lazy [email protected] this, year and want to simply open up a can of gravy, or as I like to call it "Horsesh!t in a Can" you might want to check out our NEW & HILARIOUS Video: Get Me In The Kitchen to Make Canned Gravy Taste Like Homemade

Stuffing is Drier Thank Grandma's Kiss
Simply add a little more of a fat of choice (Turkey Drippings, butter or olive oil) and some (about a half cup) Chicken Broth. Mix thoroughly, cover and bake for about 15-20 more minutes.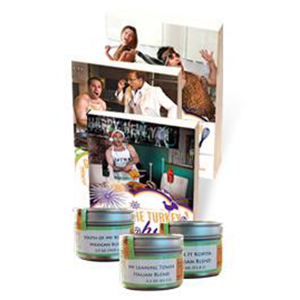 ALL OF OUR STOCKING STUFFERS, HOSTESS GIFTS & SECRET SANTA PRESENTS ARE ON HUGE SALE!
Make sure to check out all of our Kitchen [email protected] Gift Packs in the [email protected] Store! Create your own culinary gifts by mixing and matching our gourmet spice blends and cookbooks.
1) Little [email protected] Gift Pack: Choose any 4 products for just $29.99!- NOW $19.99!
2) Big [email protected] Gift Pack: Choose any 6 products for just $42.99!- NOW $29.99!
3) [email protected] Gift Pack: Choose any 8 products for just $49.99!- NOW $39.99!
4) Royal [email protected] Gift Pack: Choose any 10 products for just $59.99!- NOW $45.99!
And remember, if you become a [email protected], you get 10% off all of your orders. Always!!!
For more information on Carve The Turkey, [email protected] and our other cookbooks and gourmet spice blends, visit the [email protected] Store.